HELLO!
I'm Maria and I work with smart, selective, relationship minded women like you who are stuck, unsatisfied or simply jaded with their current dating lives, to transform their dating mindset, increase their self confidence, and dating savvy so that you successfully attract that quality, respectful, loving partner you deserve.
Even if you don't believe he exists. I promise you he does, when we open those doors of opportunity you may have been keeping closed.
My objective is to ignite your belief in yourself as a high value attractive woman, and support you in applying smart dating savvy to your dating life, and attract a quality man authentically, so that you enjoy the loving, happy, respectful, lasting relationship you deserve without settling.
I support, encourage and guide you through your personalised coaching journey to become your own very best Selective Matchmaker in a genuine and focussed way, which is aligned with your values, needs and relationship goals. I also support you in clarifying and removing the unimportant distractions and negative beliefs which may be stopping you.
Dating today can feel like a bad epidemic without some modern day dating savvy.
You like many of the smart, successful, single women I work with, may feel:
You don't understand men and why they behave the way they do.
Overwhelm, uncertainty or lack of confidence about meeting a great partner.
Uncertain about how to know and trust a potential date is right for you.
New or returning to dating and want unbiased honest support and clarity, about how to begin with a dating plan that feels authentic to you.
Feel like despite actively dating, you're going round in circles and losing hope that a great partner exists for you, because you have dated so many wrong ones.
Starting to feel that you're doing something wrong, or there's something wrong with you, to not be attracting a great partner.
I want to reassure you that you're definitely not alone in feeling this way. I have personally, which inspired me to become a dating success coach, and I now meet many single successful, smart women with diverse backgrounds and experiences, who feel disillusioned, frustrated and have have similar feelings.
Although I work mainly with women, I have supported many men and women through their own personalised coaching journey, to make important shifts in how they think,feel and approach dating, to gain clarity, self- awareness, have a renewed energy,confidence and create new opportunities with a smart strategy to meet quality potential partners.
I trained as personal performance coach with the coaching academy, and certified self esteem elevation coach. I feel honoured to be doing what inspires me every day by supporting you in matters of the heart to fulfil your own personal relationship and confidence goals.
If you're ready to prioritise your personal life, and to take smart steps to attract and select the perfect partner for you, I'd love to invite you to a complimentary 30 minute Dating Success Strategy Coaching call.
During our conversation, you will
Gain clarity about where you are now on your dating journey and what you want.
Uncover what may be holding you back, and how this is affecting your success in meeting the right potential partners for you.
Discover opportunities to meet and attract a quality partner without settling or compromising
A few words from some clients who went from uncertainty to clarity, and taking action towards their life and relationship goals
I'm looking forward to talking with you
Love
Maria x
Featured in: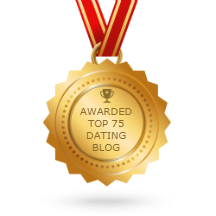 Honoured to be on the list of 75 Best Dating and Relationship Blogs by Feedspot.com